2007
VII Skishow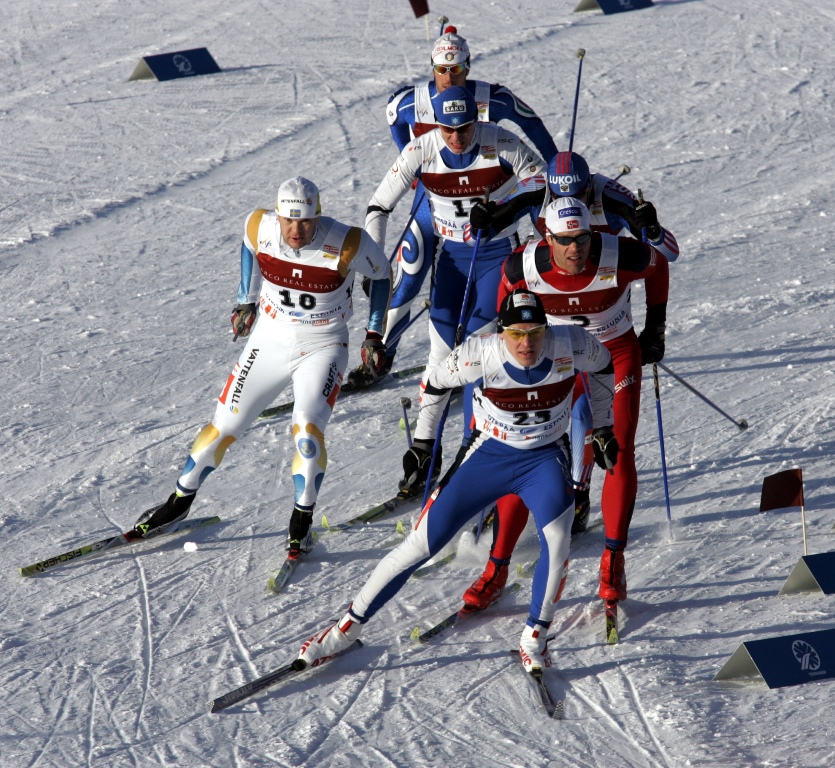 When a few days before World Cup the head organiser Alar Arukuusk admitted during public television interview, that he felt rather unnerving, most people understood this message that the hesitation is due to the heavenly rather than earthly forces. And that was exactly the case – although two days earlier weather forecast gave hope of snowfall and cold weather for the last week before competitions, it was still nothing more than just a hope. These weather changes were considered by the organizing committee when it adopted its last decision and transmitted it to cross-country skiers all over the world. Meanwhile, in the real world, army of snow cannons stood bleakly in the rain, and loaders and trucks were in ready state. Only straps were left of the partially artificial World Cup tracks. The only party to benefit from such weather seemed to be a herd of sheep on the slope of Tehvandi, nibbling the juicy turf below the ski tracks.
This unordinary autumn and winter had already caused much trouble for entire skiing world. For example, Axel Teichmann, who later on became the winner of Otepää World Cup, admitted that he had to train by using roller skis, bicycle and gym equipment. Ski calendar was constantly modified and rearranged also in Estonia and so-called emergency training was carried out wherever a piece of snow was found. Anxious inquiries were also made by FIS and by other European countries. At the same time Italy and Switzerland were ready to take over the organisation of competitions …
But as usual in nature – much expected snow and cold arrived at last, and in early days of the last week 14 snow cannons were in operation and on Tuesday the skies opened for more snow to fall. In case of such rapid changes and action, the only concern is that of the technical equipment – one has to ensure that all pipes, lines and fuses resist the cold. Things looked better in terms of human resources – when most of the people got to bed late at night after a day of hard work, they were likely to sleep more soundly than during the nights spent in expectation of snow.
Once again, Otepää saved the day in the last minute, and was ready to entertain and guests and provide wonderful days of classic racing. Furthermore – after racing, each and every top skier assured that these were the best conditions of this season. And so, despite all former troubles, tooth-for-tooth contest was on.
An excellent play was given in front of approximately 18,000 people when competing in Otepää for the purpose of preparing for Sapporo World Championships for the seventh time. It became absolutely clear that the competition is extremely close and will become even closer within the next month. When Axel Teichmann rose to the highest level of the podium of World Cup after being away for two years, and when Justyna Kowalczyk, a Polish who virtually considers Otepää her second home, won the first stage, the so-called hot team became perceptibly even hotter. The deck of cards for Sapporo was once again shuffled when Jens Arne Svartedal served the most intriguing solution to the sprint day, as he reached the last position in top 30 during the previous race and was victorious over the entire army of 62 men. Virpi Kuitunen, who admitted being in her average form, showed clear signs of laying good groundwork for further victories during this season.
As for our home team, Andrus Veerpalu was left out of the top contest this time due to knee trouble, thus placing entire load on Jaak Mae, who fought his way to the fifth place.
Kristina, however, seemed to have some sort of internal conflict, which made it difficult to predict the tendencies of this season. That might also be the reason why home spectators saw a treat in the sprint competition, where Estonian men broke through to the finals, although they were left out of the final laps due to loss of balance and may be lack of tactical experience, when competing against the leading skiers of the world. Piret Pormeister made the best sprint race of her skiing career as she reached 20th position and gained her first score in World Cup competitions.
And so, despite being rather unnerving at first, this week of wonderful winter weather found its place in the garner of great skiing events…
Author: Kaarel Zilmer
Photo: Scanpix